Your cooking assistant for easier (faster) meal prep.
Simplify dinner time with our premium-quality vegetable slicer, designed to rest your hands and more efficiently slice and dice ingredients for salads, stir-fry, and sandwiches alike.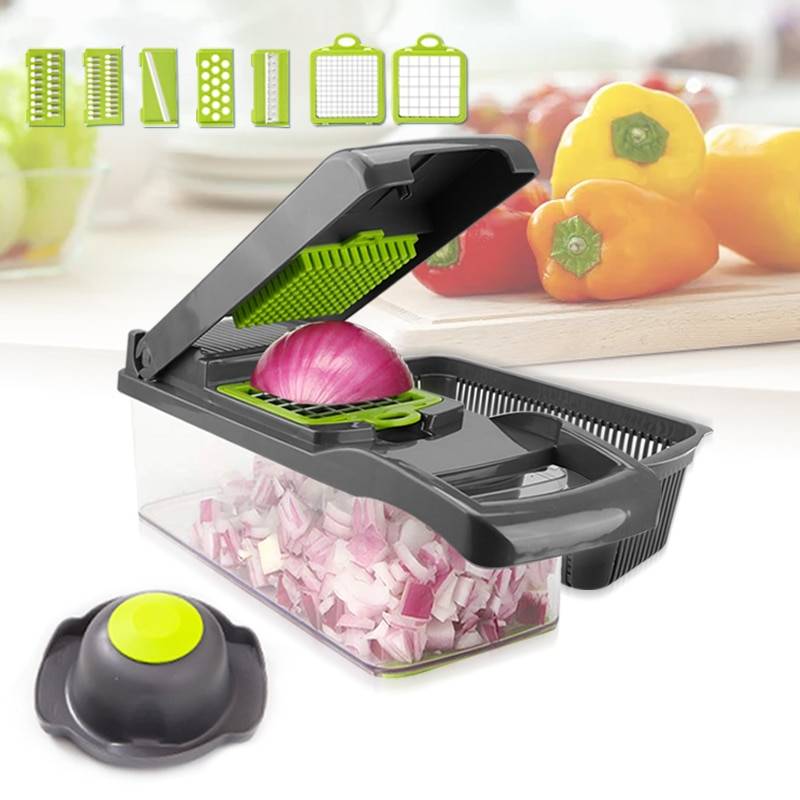 Features:
Practical And Easy To Use: Cut all kinds of vegetables, grate cheese, and slice fruits into beautiful, even sizes in seconds. Grate, chop, mash, and shape your ingredients with one versatile chopper tool.
The Best Cuts Around: With seven different stainless steel blades, discover a variety of prep solutions for your fruits and vegetables. Whip up sandwiches, sauces, and salads in a flash! And you won't need any additional knives or tools; our chopper is your all-in-one solution.
A Must-Have Tool: From newlyweds to new apartment owners, this lean cutting machine is a great gift that will surely be appreciated. Gift the luxury of saved time from painstakingly cutting ingredients for lunch or dinner or snack time. Busy parents will appreciate it, aspiring chefs will absolutely love it.
Clean & Store In a Flash: Clean the blades and cutting unit with dish detergent and water per usual. Plus, with side storage for all the blades, you can keep everything for this vegetable cutter in one place. No mess, no stress.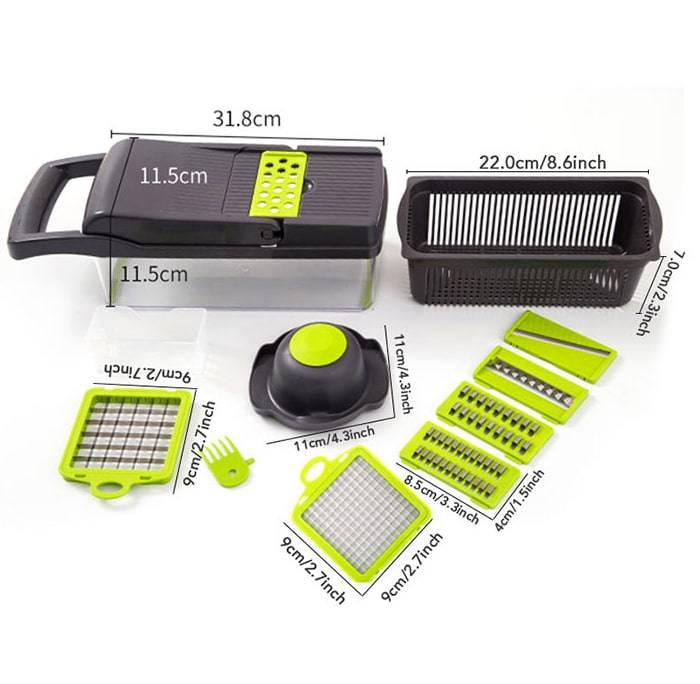 Color: Green + Grey
Package includes:
1 x 14 x 14 mm / 0.55 x 0.55 inch and 7 x 7 mm / 0.28 x 0.28 inch Dicer Blade
1 x Grater Blade
1 x 4mm x 3mm / 0.16 x 0.11 inch Shred Blade
1 x 2 mm / 0.08 inch Slicer Blade
1 x Waffle Blade
1 x Egg Separator
1 x Drain Basket
1 x Hand Guard
Your kitchen assistant awaits – buy it now!